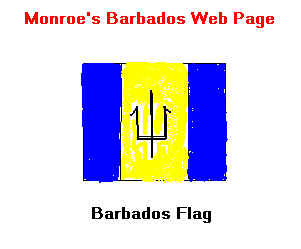 Welcome to my web page on the island of Barbados. Please take a few moments to explore my page and visit the various links to find out more information on this wonderful island.
Barbados is an island in the Caribbean, it is the most easterly island in the Caribbean and Barbados gained its Independence from Britan on November 30th 1966.
Barbados Tourism Authority site
---
If you have any comments and questions please e-mail me and I will respond. Please feel free to view this page and my other sites on the web. Enjoy!
This page was last updated:
05/09/99 08:35:32
This page is best viewed with I.E 4.0 or above
Copyright 1999