Monroe's Cricket 97 ATE Page

---
Monroe's Editorial:
As you will know by now I have created a new hompage for info on Cricket 97 ATE. I hope you enjoy the new layout, but of course this was the first page and is still the page with the most info and features such as the Link Exchange banner, the discussion forum, the chat room and the guestbook, and oh yes the Counter! Heh, I like to see that counter go up! I thank you all for visiting my pages and returning, please keep on visiting because they are more changes ahead! As noted in my new homepage, there will be no updates of any of my pages until Augast 6th 1999! But that won't stop you from visiting again? I hope not! Seee yah soon!
Lauri2 a.k.a Monroe

---
Monroes Cricket Game Chat Room
For the months of June and July this room will be open on Fridays and Saturdays. Fridays 8p.m-9p.m Eastern Time. and Saturdays 1p.m-2p.m Eastern Time. For the months of Augast onward I will post the times and days on a later date. Please forgive me if the times are not kept or the link to the room does not work, if the link does not work please try the following link:
Monroes Cricket Game Chat Room (alt)
---
Forum is working! Post and reply to messages!
Added a forum for the discussin of this game and any cricket game there is! Please check out the Monroes Cricket 97 ATE Forum also scroll down this page for more info! Please, post messages in the forum and sign my guestbook. Thank you!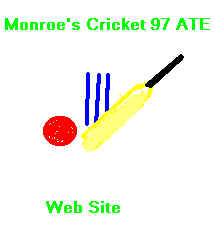 This site is devoted to EA Sports Cricket 97 ATE game and contains links and downloads to further enhance your gaming experieance. New links have been added to further enhance your experience on this site. Please feel free to sign my guestbook below as comments and suggestions are necessary in order to make improvements and or changes to this web site.
I have added a new section again! This section is sreenshots! Please enjoy the web site!
I have added a NEW! section called Hints & Notes. This section will give a little information on the game and some hints and notes on how to make this game more enjoyable. This and other sites about this game will be updated soon! Enjoy!

Overview /Downloads/ Codes/Feedback/Links/Your say/Brian Lara Cricket 99 (pc)
Hints and Notes NEW!/Screenshots NEW!
---
More tips
more cheats
more hints
more notes
a better review
more downloads
:-) hopefully more feedback and guestbook signatures, plus an active forum
all this and more comming soon!
and also more news!
and sign ups for the ListBot Mailing list!
---
News and Notes:
Ea Sports Cricket 97 ATE despite its age is still a good game. The game can be purchased in the U.S.A via www.ea.com *N.B It seems that you can no longer do this* :-(
A good source for information about this game is: www.cricketgames.com a list of links and news and reviews on this game can be found there!
The world cup teams can be downloaded from: www.cricketgames.com , visit the Cricket 97 ATE section. Download and have fun!
More News and Notes comming soon!
---
My Homepage NEW!
---

Please send your comments, questions and anything else to me. If you have a viewpoint of the game or a review send it in so I can post it on the site. Please come back often as I plan to update the site, and shall be adding new sections soon. Please feel free to look around the site and enjoy! Please visit www.cricketgames.com for all the latest info on many cricket games, a must visit if you love cricket games!
I have added new links and hope that you will enjoy them! Please feel free to browse around the site and visit regularly as more links will be added frequently as I hope to expand the site in the aim of providing more information! Enjoy!
Please sign my Guestbook! The guestbook is on the site so you can express your views and comments. Only 3 entries so far! Also more participation in the forum would be appreciated!
---
Daily updates
I will try to update this section daily, every other day or weekly depending on the time I have. Please visit this site and this section often as it will be updated regularly! Please enjoy!
*CHECK BELOW FOR MOST RECENT UPDATES*
Tuesday 18th May 1999
Recently I have added a forum for the discussion of this and any cricket game. I hope that you visit the forum and post messages and replys to the various discussions!
And most recently I have added a chat room. Obviously this room can not be open all the time. For the months of May and June I have posted the time the room will (or should be open). Please forgive me if I can not keep these times always. From July onwards I sincerely hope that the room will be open more often. These times and days will be posted at a later date. I hope you utilise this chance to chat!
I have added a link to a page I have created which is called Monroes Homepage . This page contains links to all the pages I have created other than Cricket 97 ATE (it does also contain a link to this page) plus links to my favourite sites on the web, I hope you enjoy!
Saturday 22nd May 1999
I have added a ListBot mailing list to this site. Please enter your e-mail address where indicated by the ListBot logo near the top of this page and sign up!
The World Cup England 99 has started and so far the competition is looking keen. For those of you that own EA Sports Cricket 97 ATE you can download the World Cup squads. Please visit www.cricketgames.com and go to the Cricket 97 ATE section and you will see the downloads! Download and have fun!
Sunday 23rd May 1999
As indicated above this will be my last update until June 9th 1999 . Of course this does not mean, do not visit this page untl then! Come back often, participate in the forum, join the mailing list, please! use the form and join the mailing list!
The chat room will be closed until June 25th 1999. I am sorry about this. If you have any suggestions as to what can make this site better please send . Thank you! Happy Surfing!
Tuesday 8th June 1999
Today I have checked the site again, and an update will be comming very soon. Please e-mail me and tell me how I can make this site better. I am trying my best and appologies for the lack of information on the game, so until I get more please still visit and please participate in the discussion form and the chat room when it is open. You can make this a better site if you tell me what you want. I had exams and they are almost over. Regular updates should commence soon, I thank you for your understanding!
Wednesday 9th June 1999
I'm back! Frequent updates will occur from now on! I hope that you are enjoying the site and will continue to visit often. Thanks!
As stated above in "comming soon" this site will have a lot of new additions. These will be implimented one by one. I am considering frames. If you do not like frames or you do not have a frames browser, please send me your comments.
The World Cup is well on the way! Who do you think will win? send your answer and I will post it on the site. Thank you agian for visiting my site!
Thursday 10th June 1999
I hope I will be able to open my chat room on June 25th 1999 at 8:00p.m eastern time. Other opening dates will be posted soon. Look below for some tips in finding the chat room:
For this one you might have to search for chat rooms currently open, check for: "in the hause of Lauri2". If this one does not work please e-mail me and tell me what the problem is, I will try my best to fix any problems. I am new at this so please bear with me! Thank you!
* N.B - I can not guarantee that the chat rooms will be open these times for the days indicated *
Sunday 13th June 1999
I have checked my guestbook and only 3 entries! Please use the guestbook to express your views and comments about the site. I have seen a few discussions in the forum, but more would be appreciated.
It would be nice to see someone sign up for my listbot mailing list, as this will allow me to inform you about updates to this page and would allow you to communicate with other visiters to this page. Please sign up for the list today!
Monday 14th June 1999
The world cup semi-final places have been decided. The quest for the cup is comming to a close. Who do you think will win send your comments.
Do you have any tips or hints, please send them to me and I will post them on the site. I thank you in advance. Have a good day!
Friday 18th June 1999
Sorry about the lack of updates over the last few days! I am in the process of creating new pages using Frontpage 98. Hopefully these pages will be up and running by the end of summer. I will post more updates on these new pages in the weeks ahead. (p.s-these pages will be about other cricket games and other things-stay tuned!)
The URL for this page is: http://members.tripod.com/Lauri2/cricketatez122.htm . Please continue to visit this page. Have a good day!
Saturday 19th June 1999
I am proceding with the creation of the new pages and they are comming along fine. Visit www.cricketgames.com and the EA Sports Cricket 97 ATE section for downloads for about three (3) English county teams, enjoy!
Monday 21st June 1999
Hello, well the World Cup is over and Austrailia have won. Congrats to the Austrailian team as well as the Pakastan team!
I would really like more feedback about this site, please e-mail me, I would appreciate it! The guestbook entries still only at 3, please sign! The mailing list? No one has signed up, please do, I put it there for you to join! There's more I would like to say, but I will soon. Have a good day!
Tuesday 22nd June 1999
My chat room will be open on Friday 25th June 1999 from 8:00p.m to 9:00p.m Eastern Time. Please visit the chat room and come and chat! Come and chat about this game and anything related to cricket games! Have a good day!
Thursday 24th June 1999
I opened the chat room on Tuesdat night to test it out and it works fine. Friday 25th June 1999 from 8-9p.m Eastern time the chat room will be open. If this is not a good time please send me an e-mail. That's all for now. Have a good day!
Saturday 26th June 1999
Did you remember the opening of my chat room? It will be open again Friday 2nd July 1999. I hope you visit this time!
My new page(s) are comming along great. I will post some more information on that soon, for now keep on browsing! Have a good day!
Wednesday 30th June 1999
Hello, sorry about the lack of updates during the last few days. I hope to change the look and layout of this page, I am not sure when though, for now keep on returning to the page as I hope to keep on adding new items. I need your input though, what do you want to see? Tell me, have a good day!
Thursday 1st July 1999
It's the 1st of July! The pages are comming along fine. If anyone knows of how and where you can play Cricket 97 ATE online (on the internet) please e-mail me, I thank you in advance, please have a good day!
---
Do you have any information about EA Sports Cricket 97 ATE that you will like to share? If so please send and I will post it on the site. Also if you have any tips on the game please send those in also. Thank you.

---
The Cricket World Cup (England 99) is now over but you can still check out cricket news from the home of cricket on the internet www.cricinfo.com . This is truly a great site, so check it out today, oh yeah don't forget to come back to my site!
---
Read my Guest Book/Sign my Guest Book
Courtesy TheGuestBook.com

---
This page was last updated:
Sunday, July 11, 1999 05:42 PM
This web site is copyright of Monroe 1999 except for the flaming ball picture the EA Cricket 97 ATE logo
and the best viewed with a budgie logo. I am in no way affiliated with EA Sports or Beam Software. All rights reserved.
Best viewed with i.e 4.0 or above.